The Fantastic Thailand clones

We do carry hundreds of Thailands best clones directly from Bangkok
Cattleya in abundance

We have blooming size cattleya all year round
Cattleya species

C. lueddemanniana - C. purpurata- C. warscewiczii- C. percivaliana
Stanhopea collection

We do carry an abundance of Stanhopea and Coryanthes/Coryhopea
Large Standard cattleya are our specialty

From blooming size to 4 inch pot size
Classic White Cattleya

heirloom cattleya divisions are available in our store
The Fantastic Thailand clones
We do carry hundreds of Thailands best clones directly from Bangkok
Cattleya in abundance
We have blooming size cattleya all year round
Cattleya species
C. lueddemanniana - C. purpurata- C. warscewiczii- C. percivaliana
Stanhopea collection
We do carry an abundance of Stanhopea and Coryanthes/Coryhopea
Large Standard cattleya are our specialty
From blooming size to 4 inch pot size
Classic White Cattleya
heirloom cattleya divisions are available in our store
The owner , Matthias Seelis, with his most recent CCE/AOS award of 93 points for L. undulata var. alba 'Shogun Hawaii'AM/AOS-CCE/AOS
As a grower of the genus Cattleya it can be challenging growing large plants .But with a little work and good skills you can achieve amazing results such as shown in the picture on the right. It all depends on a keen eye and a good relationship with your plants. We all need to listen, learn from them and only then will the relationship be successful and the fruits of our labor can be harvested. Challenge yourself and be a good listener and you will be on your way to be the grower you always wanted to be with results that will make you feel proud and elated.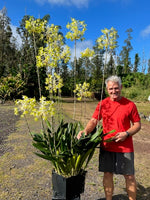 Check out the new inventory as of March2023
March Madness
updated inventory on 2,25 inch pot size and 5 inch pot size
Now available over 40 different cattleya clones.
You can choose your own varieties in two different quantity options.
Check them out and grab them for the discounted pricing
Our Nursery
With the ever so growing number of plants we are expanding the nursery every year and with over 100,000 cattleya as of 2020 the nursery is jam packed and new arrivals are always exciting!
Shipping and Contact
We are now ready to ship our orchids all over the US with FedEx 2 day shipping. Days of shipping are Mondays and Tuesdays except holidays
If you have trouble ordering or with the shopping cart please contact us by text or call  808-4438533. Text preferred please!!!!
email address mseelis@yahoo.com